7. School Dormitories
~male & female school dormitories and reliable dormitories in other locations ~
There are male and female school dormitories and several dormitories in different locations available for our students.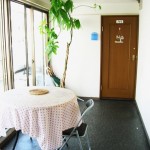 These dormitories are located within 10 to 20min walking distance or 5 to 15min ride by bicycle from the school. Our students can live in one of the school dormitories if they wish.
(Our school dormitories)